Scouting Report: James Bouknight
By Zach Blaine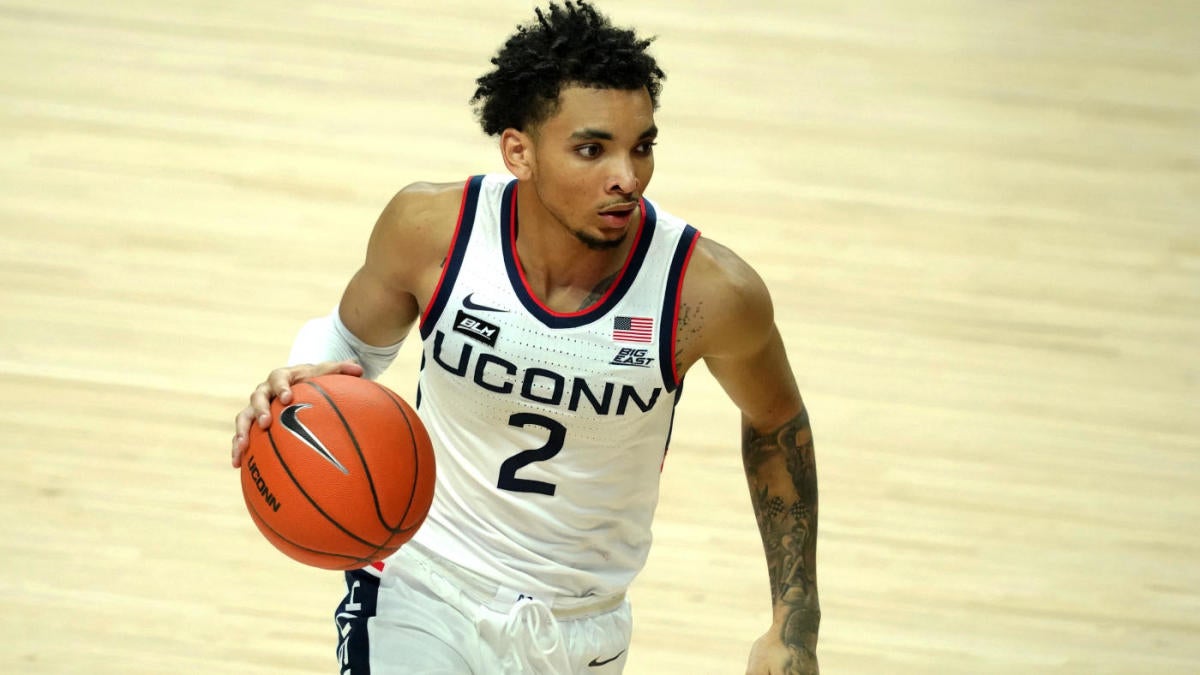 James Bouknight is a New Yorker coming out of the University of Connecticut (UConn) who is projected anywhere from early lottery to middle of the first round.  Standing just about 6'5 with shoes on, Bouknight has an array of moves in his arsenal that allow him to be a prolific scorer that will translate well to the NBA game.  At the NBA Combine, Bouknight displayed his sweet shooting stroke and allowed scouts to marvel at the potential he could have at the next level. Bouknight is no stranger to having the ball in his hands as he had the highest usage rate in the Big East at 30.4%. While his 3-point percentage was down from his freshman campaign, (34.7%-29.3%), Bouknight shot the cover off the ball at the combine and has attributed his recent success to  working out with trainer Ronnie Taylor down in Miami.
Where James Can Flourish:
Like most jobs, fit is everything. The environment a player is in can impact their capabilities and also their ability to perform at a high level. Coming from UConn, Bouknight knows about what it takes to have a winning culture and that's why Golden State is a great fit for him. We all know about those two bad men in the backcourt up in the Bay Area but after missing out on LaMelo Ball in the 2020 draft, the Warriors could use another scoring threat off the bench to play alongside the aspiring Jordan Poole. Bouknight has the ability to become a four level scorer. What I mean by this is he can put the pressure on the defense as soon as he crosses half court ala Dame, Trae Young and future co-worker Stephen Curry. His playmaking ability is apparent on tape and Bouknight could flourish in a role where he isn't forced to do too much at first.
Where James Needs to Improve:
Throughout his high school and college career, Bouknight was a walking bucket — a walking twenty-piece who could roll out of bed and punish you. However, in the NBA you make your bread by playing both sides of the floor. Bouknight is an athlete, so the on-ball defense should be fine but where young players get caught sleeping is the off ball stuff. Bouknight will need to adjust to the pace of the NBA game and could be exposed on the not so flashy side of the court.
Ceiling:
Fans love comparisons. They want to see who is the next Kobe Bryant. or who is projected to be the next LeBron James. The fact of the matter, those guys can't be replicated. These players coming out of the draft are young folks who still need to be molded and developed. They are about 20-30 pounds off their actual frame. With that being said, the playmaking and shooting ability Bouknight shows, his ceiling is a Bradley Beale-esque player–smooth as butter with a deep bag of moves.
Floor:
 It's not necessarily fair to dub a player a bust before he even steps on NBA floor but play along for a second. If the career of Bouknight were to not go as planned, he seems to be what Cam Reddish is now. Yes, Cam Reddish is still very young–but the lack of aggressiveness Reddish has shown seems to be from a lack of confidence. If Bouknight were to get into his own head about that jump shot, it won't bode well for the budding star.
I look forward to seeing Bouknight on the court.