By: Devin Zanskas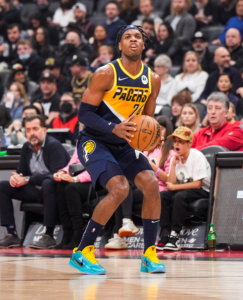 On the Lowe Post podcast, Zach Lowe compared the Pacers' success from the '90s until now to that of the Spurs, while acknowledging that they didn't win quite as much because they didn't have Duncan. In
case fans are still dubious of Lowe's remark, the Pacers haven't missed the playoffs for five straight years since the 1985-1986 NBA season. The only other organizations that can say the same are the Utah Jazz, Seattle SuperSonics/Oklahoma City Thunder, Houston Rockets, and San Antonio Spurs. If one takes a look at those franchises, they'll see that the Pacers might've accomplished this with the least talent of the others aforementioned. Reggie Miller may be underrated, but some all-time greats from those squads include Malone, Stockton, Durant, Westbrook, Olajuwon, Harden, Duncan, Robinson, and more. Of the Pacers' top 12 players based on win shares, no one has earned more than three All-NBA appearances while with the team, and that feat was surpassed or eclipsed by all of the players above
and more. Still, the Pacers haven't won a championship since they were in the ABA in 1973. The Pacers are one of seven franchises that were active at the time and haven't reached the mountaintop since
then. The others are the New York Knicks, Sacramento Kings, Atlanta Hawks, Utah Jazz, Denver Nuggets, Phoenix Suns, and LA Clippers. There may be some Indiana fans that would trade iconic moments like Paul George's poster dunk in the 2013 eastern conference finals for better lottery odds, but no one can guarantee a championship. The most discussed hypothetical trade of the past six months is probably the Pacers sending Myles Turner and Buddy Hield to the Lakers for Russell Westbrook and the Lakers' 2027 and 2029 draft picks. This exchange is mostly viewed from the Lakers' perspective, because they're the Lakers of course, but also because the disaster potential after trading away draft picks increases the further out the picks are. Although one should consider again the history of the Lakers, and the fact that they haven't gone more than 12 years without winning a championship since the 1966-1967 season. Therefore, banking on the Lakers being worse in 4-6 seasons than they are now may not be a safe bet. For example, the Lakers' actual cap space for 2024 is -$55.1 million. That includes the $99.1 million that they'll have in cap holds though. With their current supporting cast, they could theoretically renounce all of their cap holds and have $44 million in cap space. Therefore, they could either replace Westbrook with someone closer to the value of a $44 million player, or sign more than one player with that much cap space, which would provide sustainable depth. If the money's equal, free agents are maybe more likely to sign with the Lakers than anywhere else, and that makes their distant draft picks less enticing.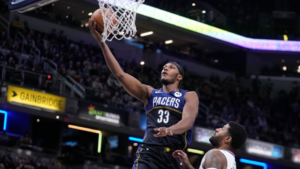 Everyone's inclination is to concoct trades involving Turner leaving Indiana, but maybe fans should consider keeping him, given that he's only 26 with a special combination of shooting and shot blocking. Of course, they should move on from him if they already know that one party isn't interested in continuing their relationship beyond this year. Although, if that's not the case, the Pacers should explore renegotiating and extending Turner's contract. According to Larry Coon's CBA FAQ, upon the third anniversary of a four-year contract, a deal can be renegotiated between July 1st and February 28th , and by the extent to which the team has cap room. Since the Pacers have $11.1 million in cap space, even without renouncing $16.7 million in remaining cap holds, they could increase Turner's salary to $29.1 million. Larry's CBA FAQ also states that the salary in the first year of a veteran extension may be up to 120% of the player's previous salary. Therefore, if the Pacers and Turner agree to renegotiate his salary to this degree, he could then sign a 5-year, $202.5 million extension instead of a 5-year, $125.3 million extension. The latter framework is definitely closer to Turner's true value. While Turner has a unique skillset, especially for a center, that makes his market particularly difficult to pinpoint. He's clearly an above average center, but he's also a far cry from an All-star appearance. Since Turner hasn't quite risen his game to that level over his second contract, it's hard to imagine him receiving that significant of a wage increase. The closest facsimile to Myles Turner's age, current production, and potential is Aaron Gordon, who signed a 4-year, $86.6 million extension in 2021. Therefore, it's more likely that Turner doesn't get all of the Pacers' remaining cap space, and if he does, the starting salary for his next deal will probably be less than that. The other obvious veteran that the Pacers will need to make a decision on sooner rather than later is Buddy Hield. Hield also arrived from Sacramento last season, and he's continued to provide Haliburton with plenty of space to operate in, while being a tremendous option to kick the ball out to. He has one more year under contract, so keeping him for at least the remainder of the season is a fine option. The wing position is maybe the best spot to have redundancy in if that's impossible to avoid, but the Pacers could see if the roster's still disproportionately strong in the backcourt after the 2023 draft. It's essentially fait accompli that they will have three first round picks in the draft, and hopefully at least one of the newcomers will have more of an opportunity than Chris Duarte has had this season. Those extra chances could be facilitated by trading Hield, but if the Pacers can acquire the requisite talent in thedraft instead of the trade market, Hield can continue to be a great complimentary piece.