By: Devin Zanskas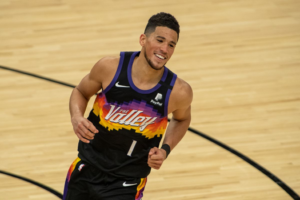 1. Phoenix Suns
The injury bug has come around to Phoenix, and fans are referring to it as "CP3 getting his injury
out of the way before the playoffs". That's okay though because they're on pace for 65 wins.
2. Miami Heat
The top seed in the East, the Heat, has stayed put for a while despite the musical chairs in the
standings. They've had an unlikely Herro, who scored 20 over more points in 6 straight games.
3. Boston Celtics
It's tough for even the Celtics' rivals to be too upset by their success lately, given that their
talent has always matched where they are now. Derrick White's impact has been great though.
4. Memphis Grizzlies
The second seed in the West has finally been taken by the Grizzlies. Their leap can be attributed
to the growth of Ja Morant, Jaren Jackson Jr, Demond Bane, and the Grizzlies' overall depth.
5. Philadelphia '76ers
The honeymoon period between Embiid and Harden is laughable to most fans. The '6ers are in a
better place now that they've gotten an insane return for Simmons compared to expectations.
6. Dallas Mavericks
Since they traded for Dinwiddie, the Mavericks have maybe been the hottest team. Although
Porzingis may look better on paper, the added dynamism has gotten them back on track.
7. Golden State Warriors
Relative to their early domination, the Warriors have fallen in the standings without Draymond.
However, it's likely that Steph and Klay will shoot above 38% from the beyond the arc later on.
8. Denver Nuggets
The optimism around the return of Murray and Porter Jr. has increased recently. Although, this
could've been predicted before, surprises happen all the time when rehabbing major injuries.
9. Milwaukee Bucks
The team that needed the Allstar break more than anyone else may have been the Bucks.
Despite losing to the Nets without KD after, they then beat teams like the Heat, Bulls, and Suns.
10. Utah Jazz
Fans of the Jazz might've been disappointed that they didn't use the Ingles contract to alleviate
the defensive burden on Gobert. Perhaps many teams weren't interested in Ingles though.
11. Chicago Bulls
The expectations for the Bulls have come back down to Earth now that they're no longer a top-
four seed in the East. However, that may not be entirely fair given their availability issues.
12. Cleveland Cavaliers
As if the Cavaliers haven't battled enough adversity, Jarrett Allen fractured his finger. Although,
it stands to reason that he could be less affected by this, since he's not much of a jump shooter.
13. Minnesota Timberwolves
The media had suggested that Minnesota is now an Anthony Edwards team. However, Karl-
Anthony Towns has reclaimed his throne after averaging over 26 points since All-Star weekend.
14. Atlanta Hawks
A lot of questions surfaced about what caused the Hawks' slide to the edge of the play-in race. If
they decide to turn towards the future, Okongwu has shown flashes versus tough matchups.
15. Toronto Raptors
The North must feel like they're experiencing déjà vu, with Siakam playing like the All-NBA guy
from two seasons ago. Unfortunately, VanVleet has missed some games since Allstar weekend.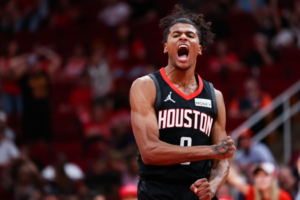 16. Brooklyn Nets
Even though they earned a win versus the reigning champs, the Nets haven't been able to climb
up the standings, given the added competition. There's also no word on a Ben Simmons debut.
17. LA Clippers
The trade for Powell and Covington was seen as highway robbery, especially for two-way impact
if Kawhi or PG return. Although, with Powell out indefinitely, the deal might be more of a wash.
18. Charlotte Hornets
For a squad that has stayed in the play-in tourney, and on top of everyone's league pass
rankings, it's pleasant to see Lamelo Ball receive an Allstar berth in only his second year.
19. Los Angeles Lakers
Apparently, LeBron forgot that the Lakers are 9 th in the West, because he's scoring like it's 2008
again. After becoming the 4 th person his age to drop 50 or more, he did so again 6 days later.
20. New Orleans Pelicans
There was a lot of negative news directed at the Pelicans when CJ revealed that Zion didn't
reach out after CJ had joined them. On the bright side, Zion was cleared for basketball activities.
21. New York Knicks
In the 6 games before the Allstar break, Randle put up between 28 and 31 points in each
contest. Perhaps he had FOMO during the Allstar break, and took his anger out on Cam Johnson.
22. Washington Wizards
Per Woj, Beal had season-ending surgery. His team is only a 12 th seed though, so he's not
missing much. Bill Simmons shared that Embiid wanted Beal, but he got Harden after the news.
23. San Antonio Spurs
Moving White was odd, especially after seeing him become the missing link for the Celtics. After
all, their other notable guards, Walker and Primo, have much more potential than production.
24. Sacramento Kings
Trading Haliburton, Hield, and Thompson for Sabonis, Holiday, and Lamb didn't end up turning
the Kings into a lock for the play-in. However, it may have made for a more balanced rotation.
25. Portland Trail Blazers
Somehow, Portland won their 1 st 4 games after sending McCollum to the Pelicans for Josh Hart
and draft picks. The formidable opponents that they faced were the Lakers, Bucks, and Grizzlies.
26. Detroit Pistons
After winning the MVP award for the Rising Stars Challenge, Cade has averaged 20.5-8-4.7.
Along with Cade's stellar numbers, the Pistons won 6 times in an 8-game stretch.
27. OKC Thunder
There's another incredible rookie in Giddey, who posted three triple doubles in a row.
Unfortunately, Mark Daigneault announced that Giddey is out for the season with a hip injury.
28. Indiana Pacers
The breakup of the Pacers' big men has finally happened with the Pacers trading Sabonis for
Haliburton. Haliburton's scoring has even improved to 18.6 points per game since.
29. Orlando Magic
The long-awaited return of Markelle Fultz is finally here after tearing his left ACL over a year ago.
He's already shown flashes of the versatile scoring that made him a number one overall pick.
30. Houston Rockets
With their 2nd losing streak of 12 or more games, the Rockets may be in an ideal spot to get the
top draft pick. However, they somehow ended their losing streak versus the Grizzlies with Ja.