Scouting Report: Evan Mobley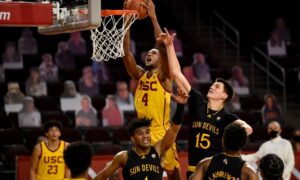 By: Zach Blaine
After an incredible tournament run, Evan Mobley solidified himself as the best big man in the draft. There is no doubt that he is the best rim protector. An elite lob threat, Mobley has already developed a mid-range jump shot and has shown flashes of being able to put the ball on floor. Mobley has displayed the ability to be a defensive anchor and can affect shots anywhere on the floor. He has also shown that he is capable of passing out of double teams and has an awareness that is rare for a player his size.
Mobley was terrific for the Trojans as he averaged 16.4 points, 8.7 rebounds and 2.8 blocks a night in his freshman campaign. The 7-footer led USC to an elite 8 appearance and was all over the floor throughout the tournament.
Where Mobley Can Flourish:
 Mobley has the rare ability to fit in with almost any team because of the versatility he can bring to a roster. As a presumed top 5 pick, Mobley can land in a few spots but the place that makes the most sense would be the Cleveland Cavaliers at Number 3 overall. Being able to catch lobs and run the pick and roll with Darius Garland would be a fun duo for the Cavaliers as they look to make some noise in the Eastern Conference. With Jarret Allen still on the roster, the Cavs could trade him for more depth and give Mobley an easier path to playing time.
Ceiling/Comparison:
Mobley is uber-talented and has the frame to be a top defender in the league for years to come. It isn't far-fetched to see Mobley do what Deandre Ayton is doing right now for the Suns in the NBA Finals. He can run the floor and guard multiple positions so switching on the perimeter won't be a flaw like it is for say, Rudy Gobert. Mobley has the athletic ability similar to Jaxson Hayes which can impact the game in more ways than one.