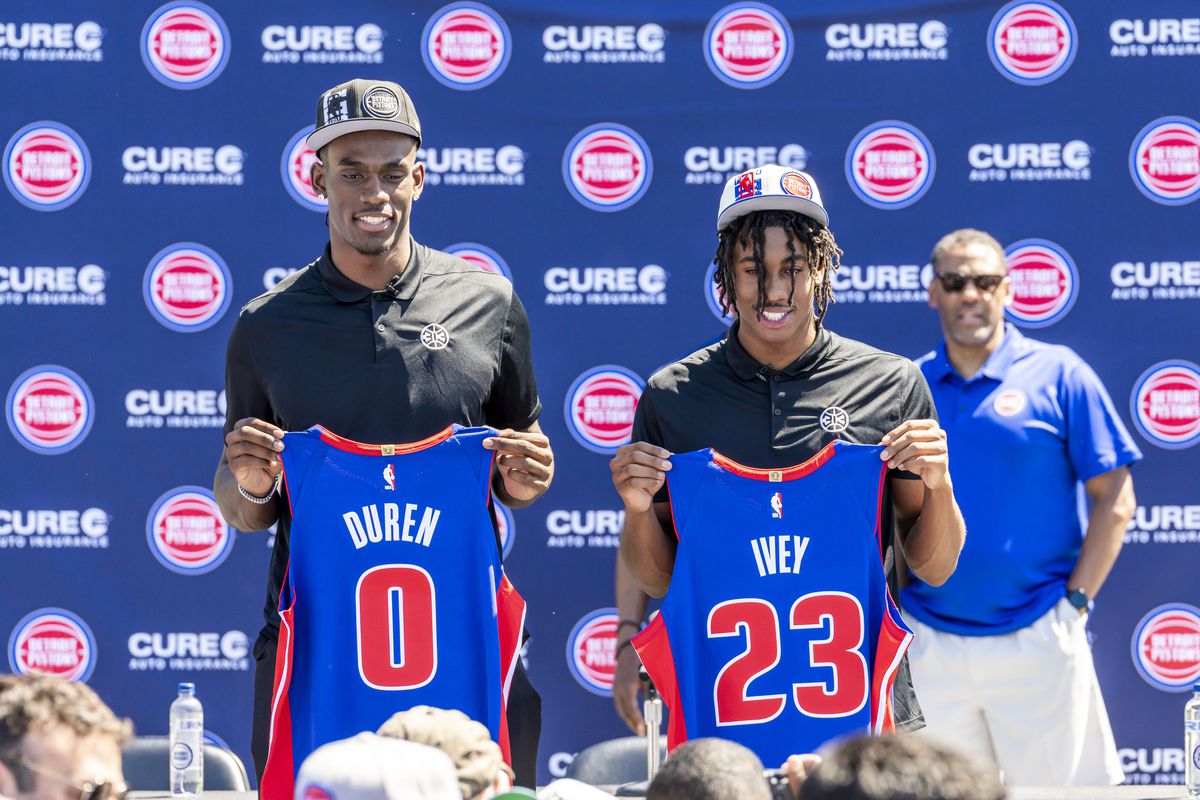 Prospects to Keep Eyes On
By: Avi Tyagi
As an amateur draft enthusiast who definitely does not spend the requisite amount of time throughout the season to pick up on the game-to-game tendencies of every prospect in the draft, stamping a seal of approval on particular picks is already a dicey proposal. On top of that, the concept of draft grades in itself is a little strange. I don't know how a team's draft could possibly be graded before a single player has taken the floor. That's like being graded on a test based on what you wore to the facility. With that in mind, there were several teams whose draft approach I appreciated, regardless of how their picks perform. There was, however, one standout.
Pistons: Any time you can read the room well enough to land the two top players in consideration for your first available pick, that's a win in my book. Center is the one position with a relatively high floor and often features less differentiation separating the top 40 at the position (excluding Embiid and Jokic of course). That being said, I think Duren has a chance to be something special. As the youngest player in the draft, Duren is still raw. His hands are not as sticky as the best centers, and he doesn't yet project to be an offensive self-creator. There's just so much else to like. He played on a Memphis team that spent most of its season searching for a distributor. It hindered some of Duren's early production, but may have also sparked an innate passing ability within him. His 10.6% assist rate is not just flashy, there's real substance behind it. He can actually read the floor as a hub with actions orbiting him, an impressive development for a reclassified recruit. Defensively, due to his athleticism, general defensive awareness, and sneaky effectiveness out on the perimeter, I think there's a chance he may be able to play up to the level of screens at the NBA level with some development (even if drop coverage still becomes his preferred style). It's time for a fun statistical nugget.
Going back to 2010, here are the list of drafted true freshman or sophomores with a season with: at least a 4.5% block rate, a 1.2% steal rate, a free throw% over 55% (to provide some reasonable expectation of a developable jumper), a free throw rate over 30 (symbolic of dominating with physicality and generating easier offense in a way that might help translate to the league), less than 5 fouls committed per 40 minutes, at least 100 shots at the rim (converted on at least 70%), and at least 75 far-two attempts (converted on at least 35%): Anthony Davis, Bobby Portis, Bam Adebayo, John Collins, Brandon Clarke, Robert Williams, Onyeka Okongwu, Evan Mobley, and Jalen Duren. There's no statistical cherry picking here, even if there are lots of specifications. Many of the best centers or power forward- center hybrids separate themselves with their ability to be complementary offensive pieces (at worst) and potential defensive stalwarts. Duren might have that potential. The Pistons likely felt the same. It takes ambition for a draft committee to collectively read the room on their prospect and act accordingly. Regardless of how they felt about Ivey versus Duren, in all likelihood, Ivey was not making it past 6 whereas Duren seemed probable to fall further. To select Ivey and then trade back into the draft for a lottery pick (mainly) only at the expense of the primary dividend from the Jerami Grant deal was a win. To secure Duren makes the Pistons far more interesting. Of all the teams with top 10 picks, the backcourt companion most likely to augment and fit with Ivey was Cade. While Ivey has shown the focus to defend off-ball and is a wonderful slasher who can generate rim attempts, there are a lot of nascent skills still in infancy. The on-ball defense is suspect, the playmaking is a work in progress, and many a recently drafted athletic point guard has struggled due to self-creation limitations in the mid-range and a suspect shot. The good news: Cade (a relatively solid on-ball defender) can take most of the initial on-ball distribution duties. All Ivey has to do out of the gate is provide a backcourt perimeter slashing threat (with solid finishing and secondary playmaking), develop his technique as a defender, and attack with his aerial ability in transition. It enhances Cade's current skillset and unlocks his transition passing game. Speaking of which, let's talk Duren. He's going to be one of the best lob threats as soon as he sets foot on the hardwood. In transition, Cade, Jaden, and Jalen are going to dominate. This builds the identity of their (hopeful) foundational core. Makes sense to me.
Second Round picks of interest:
Big fan of the E.J. Liddell pick by the Pelicans. Even as a tweener shot-blocker, I think he's instinctive and versatile enough on help-side rotations to continue to offer rim protection value even in the league. He might be getting somewhat underrated as a vertical shot-blocking athlete. The biggest concern: he's not a rim-running threat capable of providing easy offense, so a reliable jump shot will be important. His shot is fine as is, but perhaps a little too direct. That may prove pivotal at the top of his release with larger, better athletes closing out to him. He's on the Pelicans now; can't wait for him to become a 40% marksman in 2 years. There is some starter potential here as a supplementary offensive and defensive playmaker to Zion.
I can't say I know what to make of Jaden Hardy going in the second round. Maybe teams feel he just wouldn't provide them enough as a secondary option and might not function well enough to earn primary reps. Maybe the player and prospective teams disagreed on roles. Either way, it's hard to see a better fit than the Mavericks and Hardy. If he's going to succeed as an NBA player, the Mavericks five-out system that purposefully grants freedom and higher-usage to tertiary ball-handlers feels like the most likely avenue towards that. In the second half of the G-League season, Hardy seemed to transition to becoming more of a catch and shoot or operate off of screens option. If he can start hitting a high-volume of 3s at above 35%, that might be fun for Luka. For the Mavericks, especially with Brunson galloping over to the Big Apple, an excellent showing from Hardy in his rookie or second season might offer the Mavericks more roster flexibility to include more in a mega-trade for a superstar. For a team with aspirations to become a contender, it's an important swing.
Here are the super-interesting sleepers. These two prospects might lack the athleticism necessary to compete at the NBA level, but I feel compelled to mention them. The Grizzlies took Vince Williams Jr., a senior wing from VCU with a breakout season. I just want to mention his super-weird statistical profile. Since 2008, here are the top-50 picks with a college season that clears these benchmarks:
A 15% assist percentage and 0.8 Assist-to-Turnover ratio
A 3% block rate and 2% steal rate
A free throw rate of 30
A success rate of 45% on 2-point attempts
9 3 pointers attempted per 100 possessions
35% from 3
The members of this versatile, exclusive list: Courtney Lee, Paul George, Klay Thompson, and Vince. He doesn't showcase the self-creation prowess of that incredible group, but if his athleticism is sufficient, he feels like a perfect 3 and D+ small forward for any contender. If the Grizzlies could get that production from a pick out of the middle of second round, to say nothing of the other interesting prospects they selected, they might be the most perennially dangerous proposition out west.
The other fun small-school sleeper: Ryan Rollins. The Warriors took Rollins in the second, as a ready-made contributor as opposed to the upside swing of Pat Baldwin (former top 5 RSCI movement-shooter who was 43% from 3 and 87% from the line in his last healthy season). Rollins himself is an interesting developmental prospect for a contender. It's statistical filters time. Here are the Bart Torvik database markers:
Assist % ≥ 12
Over 50% of 2-point field goal attempts made
3-Pointers Attempted/100 possessions ≥ 6.5
Free Throw % ≥ 0.78
At Rim FG% ≥ 0.59
Far 2s attempted ≥ 50
BPM ≥ 1.5
This is the list of top 50 picks since 2010 with a frosh-soph season that meets the criteria:
Gordon Hayward, Jeremy Lamb, Ben McLemore, Trey Burke, Gary Harris, Jordan Adams (he's got a strange scoring profile more emblematic of a stretch 4 with very little self-creation of his offense even within the arc), Jayson Tatum, Miles Bridges, Tyler Herro, Jordan Poole, Coby White, Ja Morant, Haliburton, Hyland, Franz, and Toledo's finest Ryan Rollins. Rollins' 3-point percentages are a tad underwhelming (31%) but he self-generated 34% of his made 3s and he has positive shooting indicators. In all likelihood, the 3 will arrive. His determining skill will be his lateral agility. Rollin's build is actually more similar to a Celtics guard, and he could theoretically prove to be a decent defender if he is capable of staying in front of his matchup. He allowed larger cushions and semi-frequent drives past him in the MAC, if that is the by-product of functional athleticism deficiencies, he may get toasted in the NBA. However, his combine agility numbers were solid. If he's acceptable as a defender, the rest of the scoring arsenal may make him a perfect bench complement to Poole and may just further boost the Warriors' dynastic run.