The '20-21 Buyout Market
By: NTC Team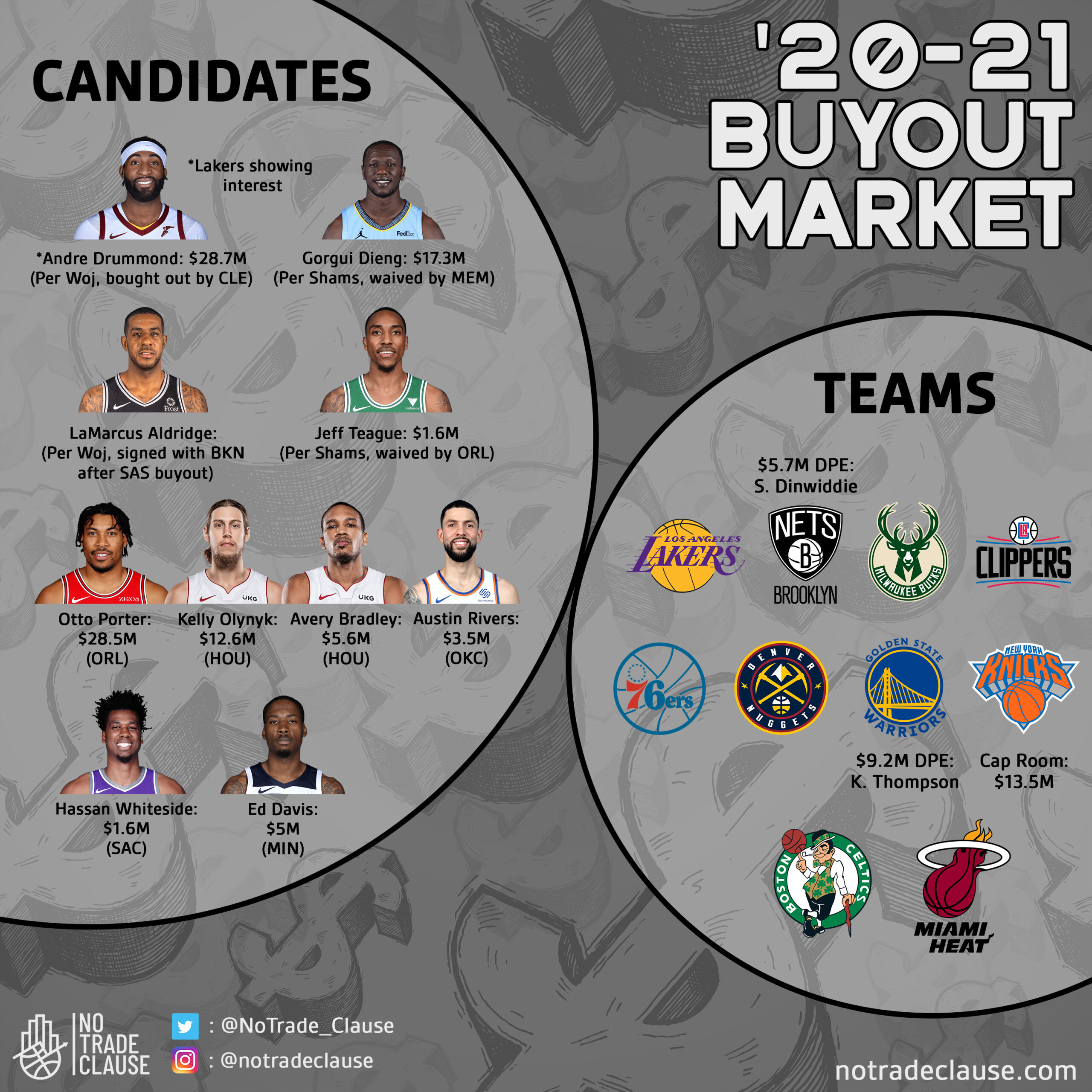 All teams, whether contending or in the playoff hunt, want to get better. Not everyone has the means to do so through a trade, this is where the buyout market comes in – giving any team the opportunity to pluck midseason free agents with the right recruiting pitch. The trade deadline wrapped up Thursday with several big moves shaking up the league.  With playoff rosters almost set, all eyes turn to the buyout market where teams will look to buyout the contracts of players who don't fit the team's long-term plan. Our team has identified nine likely candidates with rumors swirling about being bought out.  We'll walk through and look at each contract and discuss likely destinations
Otto Porter Jr.
Even though he's recently been traded to the Orlando Magic, we here at NTC don't expect the Orlando Magic to hold on to Porter very.  A good player, Porter hasn't lived up to the money he was paid by the Washington Wizards before being traded to the Chicago Bulls. Averaging 9.9 PPG, 5.5 RPG, and 2.0 APG the forward average performance has declined.  A fresh start might be just what Porter needs to get back on track, but with the recent moves by the Magic, it is clear that the team is looking to rebuild.  If Porter doesn't stick in Orlando, which we don't expect he will, we certainly expect that he will be bought out to make him an Unrestricted Free Agent a little sooner than the end of the season.
Kelly Olynyk
Rumors are swirling that the Houston Rockets may see value in the veteran center averaging 10 PPG.  We, at NTC think that it may be more beneficial to waive the 7-year veteran. Olynyk is known as a three-and-d(efense) player.  If he is bought out, look for him to go to a contender.  He is still a solid contributor and has a lot to give to the right team.
Avery Bradley
Like Kelly Olynyk, rumors are swirling that the Houston Rockets may look to retain the services of Bradley.  A veteran shooting guard with sniper-like three-point shooting abilities, at times, and good defense Bradley can give you solid back-up minutes.  We, at NTC, think we'll see Bradley go to a contender with a need for shooting depth like the Los Angeles Lakers – especially with him already knowing the system.
Ed Davis
A stretch-five, Davis is a go-to-guy for defense.  In today's NBA, there is a need for consistent shooting in addition to great defense.  Unfortunately, unless Davis can really become a shooting threat, chances are he will end up on a team as a solid mentor for young up-and-coming centers.  It has been said, however, that 'defense wins championships.'  Davis could end up on a contender lacking a solid defensive presence.
Austin Rivers
When's he's hot, he's hot. That being said, Rivers has the potential to add shooting depth and mentorship to a team with a young core.  We, at NTC, think we'll see Rivers go to a team that is in a full-on rebuild and looking to develop it's younger players.
Jeff Teague
Teague is a household name around the league.  He has been a trusted point guard for many years.  If he is bought out, look for him to go to a team needing leadership.  Don't sleep on Teague, he can still get to the rim easily and has all of the leadership characteristics needed for a team that is focused on developing players.
Hassan Whiteside
Whiteside is a solid center with great defense and strong-rebounding ability.  He is a force to be reckoned with in the paint.  If he is bought out, we at NTC, look for him to go to a contribute with a need for help in the interior.