By Devin Zanskas
Sam Presti, the Thunder's general manager for the past 16 years, has clearly done an outstanding job rebuilding the franchise, not only with their Big 3 from the last decade, but also in this current era. Drafting three hall of famers and Serge Ibaka in three consecutive seasons is far from a fluke. Furthermore, the Thunder are impressively positioned to return to the playoffs next year after only missing three playoffs since trading away Russell Westbrook and Paul George in the summer of 2019. The Thunder already received Shai Gilgeous-Alexander and Jalen Williams directly from the Paul George trade. Per Real GM, they also have the LA Clippers' 2024 and 2026 unprotected first round picks. Additionally, the Heat's 2025 first rounder will go to the Thunder if the Heat somehow miss the playoffs and don't get a chance to repeat this season's postseason run. That outcome looks a lot less likely than it did in March, and if they make the playoffs, the Thunder will receive the Heat's unprotected 2026 first round pick.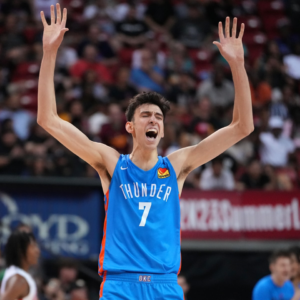 The prospects that the Thunder gained with their own draft picks, Josh Giddey and Chet Holmgren, may pay dividends as bets to be future Allstars. The most recent Thunder first rounder, Cason Wallace, might not seem like the typical high-upside swing from OKC, but he provides a different look at point guard than Giddey as a ballhawk defensively. Even if Wallace isn't the flashiest name, the Thunder cashed in on assets to add the prospect that they believed in the most, as they should have. Although the Thunder had to take on the Davis Bertans deal, which is probably seen as having negative value, his salary slot could be vital in a trade to bring in someone else on a large contract. The Athletic's Sam Vecenie suggested that the Thunder could use the combined $32.5 million owed to Luguentz Dort and Davis Bertans, along with future first rounders, to acquire another star.
Vecenie also indicated that Wallace could fill the void left by Dort if he were to be traded. However, it may benefit the Thunder to kick the can down the road because the next core player to be extension eligible is Giddey, and that new contract wouldn't be on the books until 2025-2026. The Thunder could have over $56.2 million in cap space in the summer of 2024, so they have plenty of time to capitalize on that before their guys become expensive. Besides saving money in the interim, not trading for a star immediately allows the Thunder to further evaluate and develop the talent that they have in the building. Once the Thunder have to provide extensions to Giddey, Chet, and Jalen though, it's going to become much more difficult to add contributors to the lineup without giving up real value in return. 
In addition to Davis Bertans, the Thunder also got Victor Oladipo, Rudy Gay, TyTy Washington, and Usman Garuba for a total of three second rounders, but that brings them to 21 players on their cap sheet. They have two non-guaranteed contracts that they could waive without making any salaries dead money, but they will still have four more roster spots than they can take into the regular season. For the price of three second round picks, the Thunder can cast a wider net for four players outside of their rotation, but they'll still owe at least $8.8 million to the others that don't make the cut. It makes sense to see what Chet looks like, but with potentially four more draft picks coming in after next season, they should add someone that's closer to SGA's level, instead of a guy they may waive.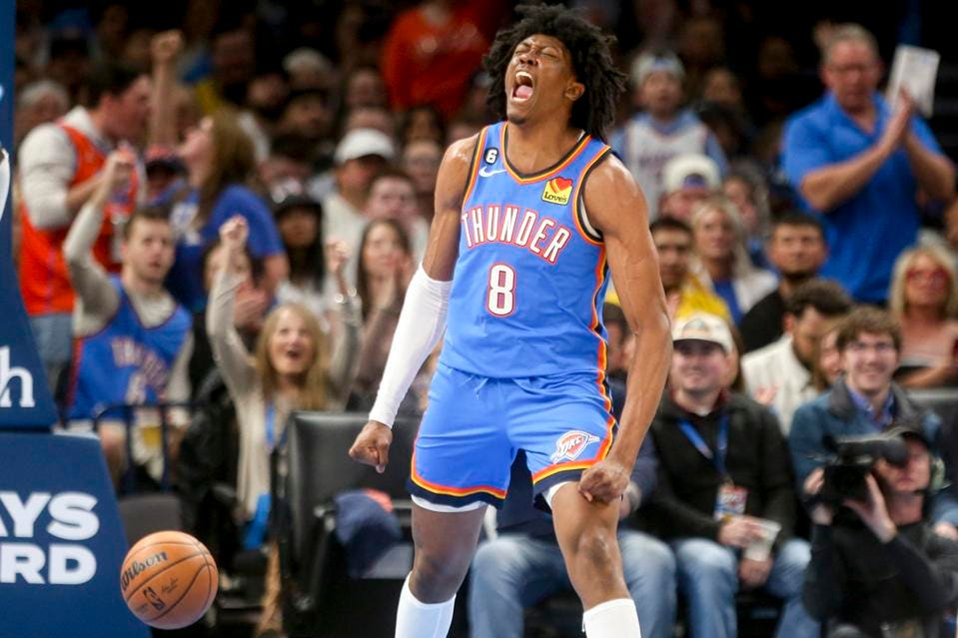 A notable example of a team taking advantage of cap space before paying their star player is in 2015, when the Spurs brought in Lamarcus Aldridge in free agency, then they re-signed Kawhi Leonard later. The difference is that the Spurs let Kawhi enter free agency. Per Larry Coon's CBA FAQ, rookie contracts can be extended between the end of July Moratorium and the start of the final regular season of the rookie deal.  Regardless of whether a team signs a player to an extension once they're eligible, or if they wait until free agency to re-sign someone, that new contract won't kick in until the following season. Therefore, the summer of 2024 will be a prime opportunity for the Thunder to add salaries from outside of the organization. Plus, if a player has their best year in their fourth season, when they should theoretically still be on an upward trajectory, the Thunder might end up with a discount for Giddey's extension. A situation where this could've happened was when the Dallas Mavericks could've offered Jalen Brunson a four-year, $55.5 million extension. 
Reporting from ESPN's Tim McMahon quoted Jalen's father, Rick Brunson, stating "… In January, … I said 'Hey man, take the money' He wants security. He wants to live [in Dallas]. And they declined". Jalen would go on to sign with the Knicks in the summer of 2022 for four years, $104 million, and finish third in the Most Improved Player voting. Some significant names that could be free agents next summer are Jaylen Brown, Nic Claxton, Demar Derozan, Kawhi Leonard, Anthony Davis, Jrue Holiday, Tobias Harris, and Pascal Siakam. The Thunder benefit from having an impressive roster already, in which their shortest starter, Dort, can guard players much taller than him, and the rest of the starting lineup is at least 6'6". The reigning champions, the Denver Nuggets, have a similar roster construction as well, with no starters being shorter than 6'4". Having Chet as a centerpiece also provides the Thunder with roster flexibility because he's agile enough to guard many power forwards, and he protects the rim enough to anchor the center position. Therefore, the Thunder don't have to worry about adding the wrong guy quite as much as a team with core players that have more glaring weaknesses. The last piece of a title squad is perhaps the most important decision a team will make, so it's crucial that they gather as much data necessary when looking into the aforementioned future free agents.