The Curious Case of the Beantown Boys
By: Devin Zanskas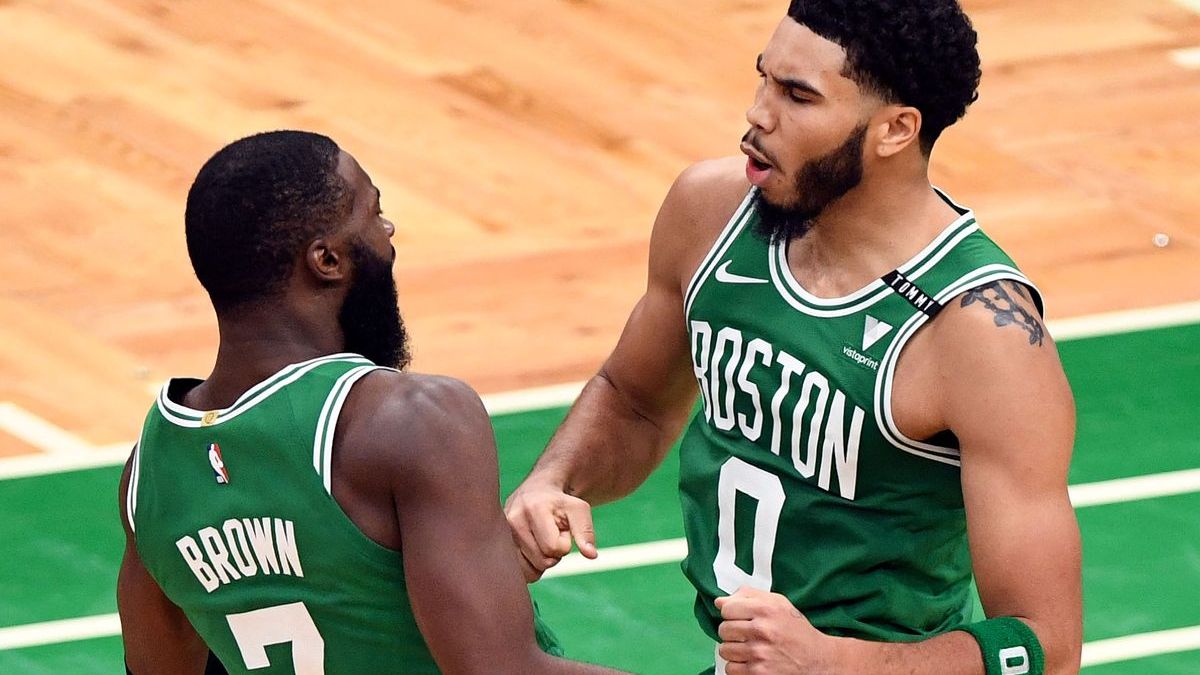 The Boston Celtics have made it to the Eastern Conference Finals in each of the last four seasons, except for when Kyrie Irving shot 35.6% against the Milwaukee Bucks in the 2019 Conference Semifinals. Kyrie has since moved on from the green pastures, along with former All-Stars Al Horford and Gordon Hayward. However, the Celtics still managed to make last year's Conference Finals, with Hayward on
their bench until the Conference Finals after a grade three ankle sprain versus Horford and the Philadelphia 76ers in the first round. Fortunately, they still have Jayson Tatum and Jaylen Brown on the books for at least three seasons after this one.
Tatum jumped onto the scene when he put LeBron James on a poster in the 2018 Conference Finals. Brown has improved as much as anybody in his first five seasons. He is fulfilling his potential by adding 24.3 points per game and his first all-star appearance to his elite on-ball defense. However, Dwayne Wade, legend of the Miami Heat, who upset them in last year's Conference Finals, asked the TNT crew, "What is the Celtics identity? It's not defense. They're not great in transition. They're not exceptionally great in the half-court when it comes to execution of the game, even though they have an amazing coach and players. You've got to have an identity as a team. This team doesn't have one."
Wade also mentions that an identity is "what they can lean their head on when things get tough and guys miss games." Obstacles such as players missing games is to be expected for every team given this condensed season. A team like the Utah Jazz with more wins than anybody, can point to their continuity as a source of their perseverance and identity. The Celtics brought back five of their six top rotation players from last year's team. Despite maintaining their core, the Celtics may be the most disappointing team out of anybody this season.  When Hayward signed with the Charlotte Hornets in the offseason for 4 years, $120 million, the Celtics were not the ones who took the brunt of the criticism.
However, as it stands on April 11th, the Hornets hold a homecourt advantage for the first round and the Celtics have to play in the play-in games. Luckily, they were able to acquire Evan Fournier, a close facsimile to Hayward, from the largest trade exception in NBA history created in his sign-and-trade.
When one considers the Celtics strengths through the past several seasons, what possibly comes to mind first their athleticism and versatility on wing. Tatum and Brown play no small role in that perception, but they've also been surrounded by an athletic forward in Hayward, now replaced by Fournier, an All-Defensive guard in Smart, more mobile big men in Horford, Theis, and Robert and Grant Williams, and an All-Star point guard in Kemba and Kyrie. Danny Ainge and his associates have built the ideal mold of a team for this modern NBA. Given their personnel, Wade's aforementioned claim of the Celtics being poor in transition is surprising, but their consistent downfall has been their playmaking. The Celtics' starting guards in Kemba and Smart have each only played no more than 34 games so far, missing 11 and 17 consecutive games, respectively. This has resulted in the Celtics being as low as 27th in assists per game, but they've since improved to 23rd.
Although they've been playing a more difficult isolation offense than the regular season requires, rest assured that no one wants to see the Beantown Boys in the first round.